Sat Nov 10 Stayed at the Wyndham Old San Juan and Casino Hotel
Sun Nov 11 Borded the Carnival Destiny Sailed at 11pm
Mon Nov 12 Arrived in St Thomas where we went to the Elegant jewelry store and to Coral world. Also a great place to do some Beginner Scuba Diving.
Tues Nov 13 Arrived in St Lucia. There is a Rainforest on the island. We had periods of rain off and on.
Wed Nov 14 Day at sea
Thurs Nov 15 Arrived in Curacao Great place to swim Crystal blue water and warm. Great place to shop for tshirts, souvenirs and LINEN.
Fri Nov 16 Arrived In Aruba. Recommend to rent your own SUV and tour the island and sand dunes. Also a party night do the sunset cruise and then party on shore at Carlos n Charlie's.
Sat Nov 17 Day at Sea ( and packing to go home ) boo hoo
Sun Nov 18 Arrive at San Juan Trip is over only a plane ride home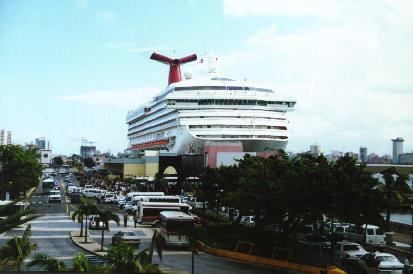 Well here we are.. it is the next day and the Destiny has arrived for us. This is the view we had from our hotel. The ship is enormous.

Places We Went Click for links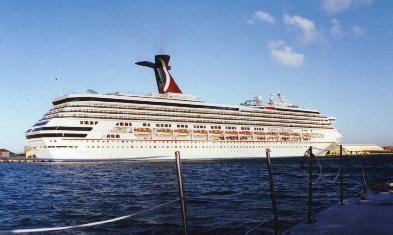 Here is a side view of the Carnival Destiny as we cruised passed it in Aruba when we were on the Sunset Cruise